Fr. Tim Galvin, fourth from the right, has served in Riwoto since 2014.
Fr. Tim Galvin stood back and watched as the South Sudanese people he has served for the past eight years showed him how to live in communion with God's creation.
Months ago in the remote community of Riwoto, South Sudan, Galvin and a group of about 50 were celebrating Mass. They stood alongside their triangular St. Mary Magdalene Garden, a Season of Creation project that had come to fruition.
Together, they read Revelation 22:2: "On each side of the river stood the tree of life… And the leaves of the tree are for the healing of the nations."
One by one, the South Sudanese people shared how creation heals them.
A school watchman, Joseph Lokonoi, presented "alibakonyen," a creeper-like plant with gray heads, and explained how it heals jaundice.
Another watchman, Mark Lopungoi, walked to a nearby fence and showed "nyakamongo," the local name for a vine-like plant that can help heal cuts.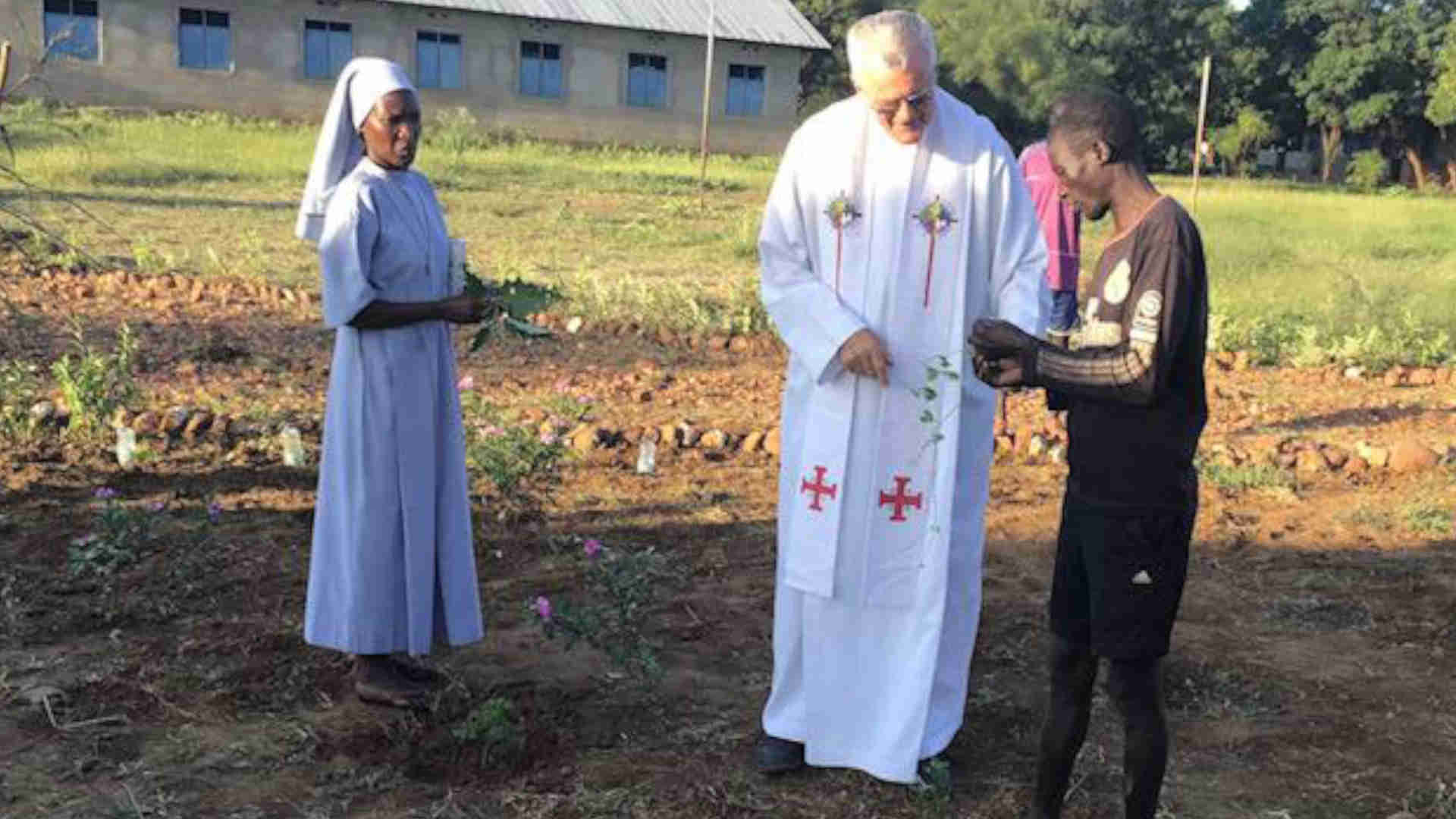 Local people in Riwoto, such as Mark Lopungoi, have shown Fr. Galvin how to live in communion with creation.
Sister Mary Nkatha, the headmistress of the area's primary school, guided everyone to where they had planted black-jack, a source of iodine.
If you cut yourself, she told the group, pick the plant's leaves and scratch them between your hands. This will heal you.
Galvin could only marvel. He grew up in Ireland, graduated from University College Cork with a bachelor's of arts degree in Mathematics, Irish and History, and for seminary, he completed a four-year theology course at St. Patrick's College.
But the people of Riwoto, almost all of whom lack a formal education, were teaching him.
"There is a wisdom here already in traditional society. We are partners of the environment. They know their environment more than I know my environment in Ireland," he said.
Fr. Galvin and Riwoto community members celebrate their new St. Mary Magdalene Garden.
The 68-year-old has been a Catholic priest for 43 years and has long been aware of the role that caring for creation plays in Catholic Social Teaching.
But his time serving in Riwoto and his studying of Pope Francis' Laudato Si' have changed him.
Galvin has seen how the South Sudanese people understand the healing value of creation and how they care for God's gifts to mankind.
"They're dependent on nature… and they know it," he said.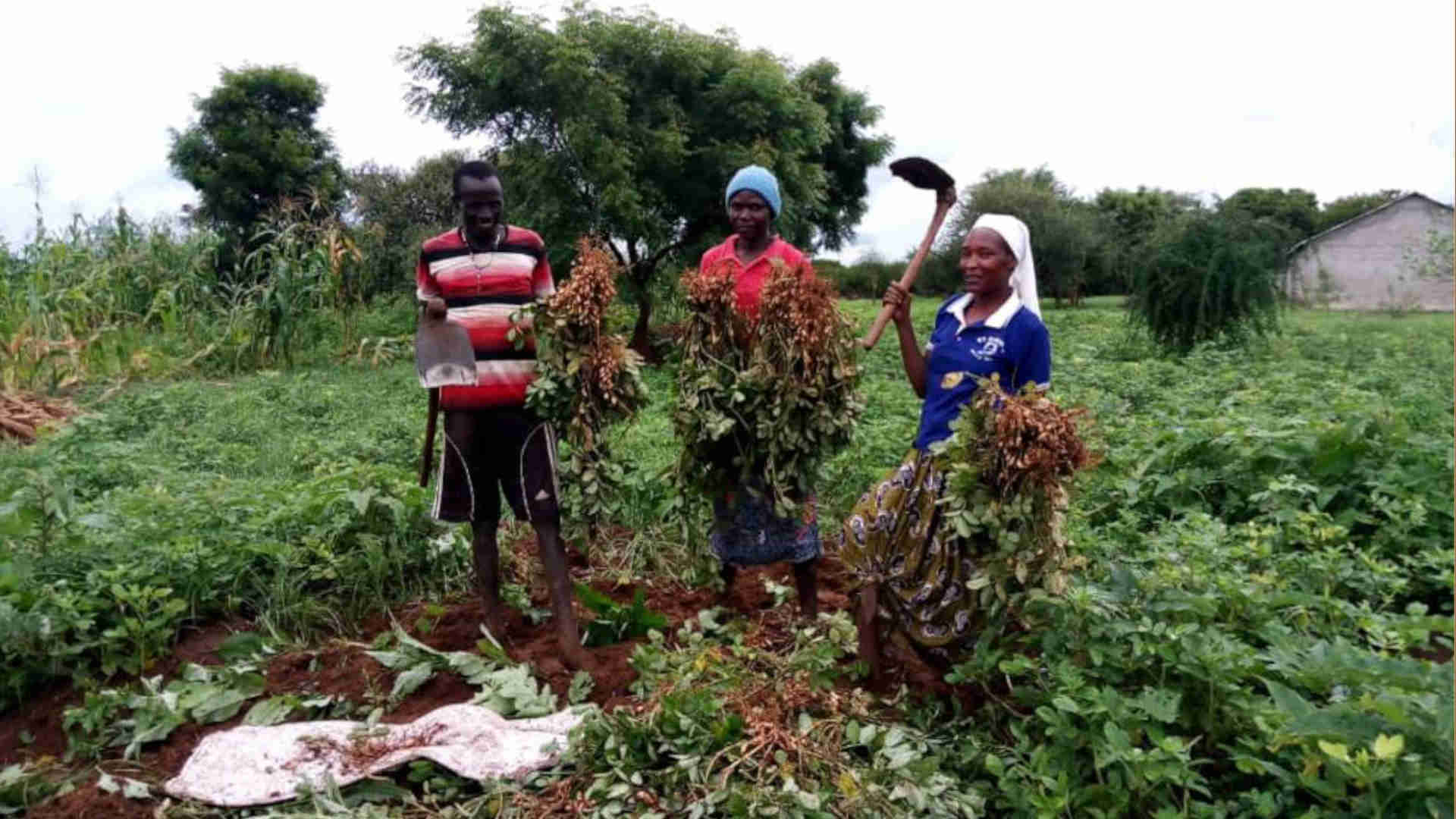 The people of Riwoto harvest groundnuts as they work to improve their food security.
Galvin also has studied Laudato Si' and recently became a Laudato Si' Animator. Through the free six-week training, he connected with thousands of people around the world who are leading their communities to take Catholic action against the ecological crisis and climate emergency.
He also received the tools he needed to lead his community in caring for our common home.
(Live out your values: Become a Laudato Si' Animator today)
"Pope Francis talks about Mother Earth. St. Francis talked about it also. 'Praise to my Lord God, through Mother Earth,'" Galvin said, quoting St. Francis' "Canticle of the Sun."
Then he stopped himself. "I wouldn't have said that a few years ago, but I would say it now. Maybe I've come to understand how we are so dependent on Earth, for everything, food, medicines."
Galvin has experienced this hopeful transformation amidst death and destruction.
Sudan was engulfed in a 22-year civil war that ended in 2005. Nearly 2.5 million people were killed and another four million displaced.
South Sudan gained its independence in 2011, but two years later, the new country spiralled into six years of fighting that killed more than 400,000 people.
Yet the community of Riwoto remains hopeful. With Laudato Si' as their guide, they work for a better future and cherish their closeness to God and all creation.
"This is the work of the Church," said Joseph Loyda, 50, who manages the watering and planting of local fruit trees, including tamarind, paw paw, and mango, nyeronit, and nyebei.  "This is really the work of God."
Galvin grew up in southwest Ireland before becoming a St. Patrick's Missionary Society priest and moving to Kenya in 1978.
In his home country, he remembers one of his sisters always contemplating creation's beauty and naming the wildflowers as they walked along country roads.
Back then, however, Galvin wasn't much interested in admiring creation.
His ecological conversion didn't begin until decades later, when he noticed the climate emergency worsening around the globe.
"We are in a crisis. One night, you watch the news, the Arctic is melting. Another night you watch the news, and California is burning, Australia is burning," Galvin said.
"It's very, very helpless looking… But Laudato Si' is giving us a blueprint of how we can change and protect creation."
In 2017, a couple of years after Pope Francis finished writing the encyclical, Galvin and other missionaries in South Sudan and Kenya came together to study Laudato Si'.
Last year, as the COVID-19 pandemic shut down the world, Galvin committed to more studies of Laudato Si' by enrolling in free Laudato Si' Animator training.
He connected with thousands of people from all over the world through Zoom and learned from experts about the root causes of the climate crisis and the core tenets of Laudato Si'.
He gained hope from connecting with like-minded individuals who were also ready to lead their communities to take action for creation.
"People… throughout the world… who are trying to do something about the climate crisis," he said.
The training also helped him better understand the injustice of the climate crisis: how the people who are suffering its worst effects have had the least to do with the heat-trapping greenhouse gas emissions scientists say are causing the crisis.
"It's the cry of the Earth and the cry of the poor," Galvin said, quoting Laudato Si'.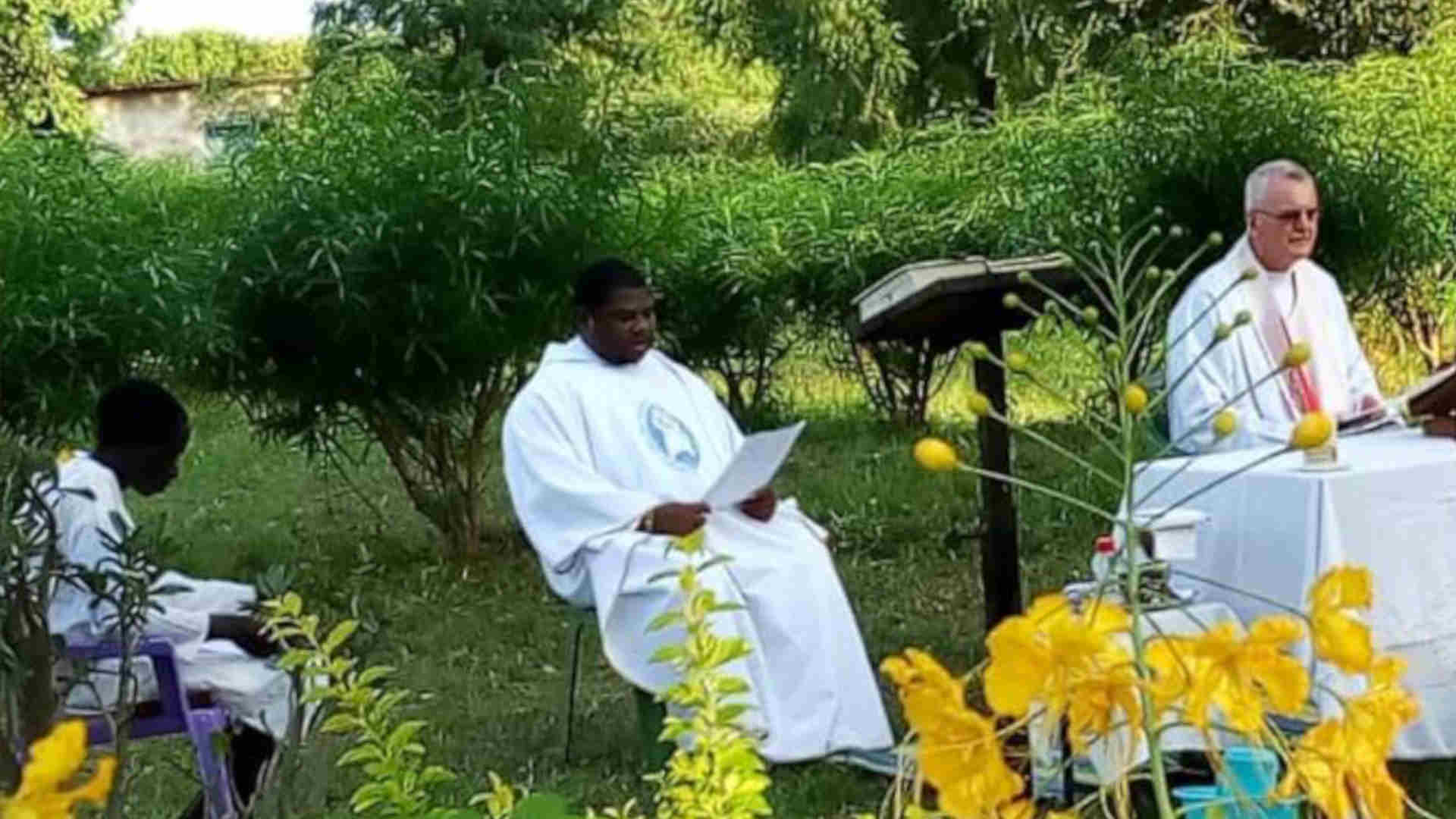 Fr. Tim Galvin leads a celebration of the Eucharist in a Riwoto garden.
He sees and hears both cries on a regular basis in Riwoto, located in southeastern South Sudan, not far from Uganda and Kenya.
Local people lack basic needs, such as electricity. They have to chop down trees for firewood to burn charcoal and provide for their families.
"There is enormous pressure on natural resources, especially on the forests, as over 99 percent of the population of South Sudan depends on forests as their source of energy – fuel wood and charcoal, and timber for construction and furniture," South Sudan President Salva Kiir Mayardit wrote in a 2018 report on the country's environment.
The report also highlighted the country's growing deforestation problem. "Fuelwood and charcoal account for over 80 percent of all wood used in South Sudan, with an annual deforestation rate estimated at between 1.5 and 2 percent."
Deforestation can quickly lead to other problems, scientists have shown, including an increased risk of flooding since trees absorb soil and water.
Cutting down trees also can reduce the amount of rainfall in the area, scientists say, since trees and plants put off moisture that's collected by the passing air, leading to rain.
In 2019, the United Nations reported that nearly one million people in South Sudan were affected by heavy flooding. Galvin and the people of Riwoto said they've experienced intense flooding from the nearby Singaita River.
"Trees itself would be a help to stop the water from destroying gardens and homes and people's livelihood," Galvin said.
Every day, he and others take action for God's creation and to create a more resilient future in South Sudan.
When it rains, Joseph Loyda plants indigenous trees, and during the dry season (November through June), he waters them and the two tree nurseries for about four hours a day. The nurseries cultivate indigenous trees, including thorn, tamarind, and paw paw.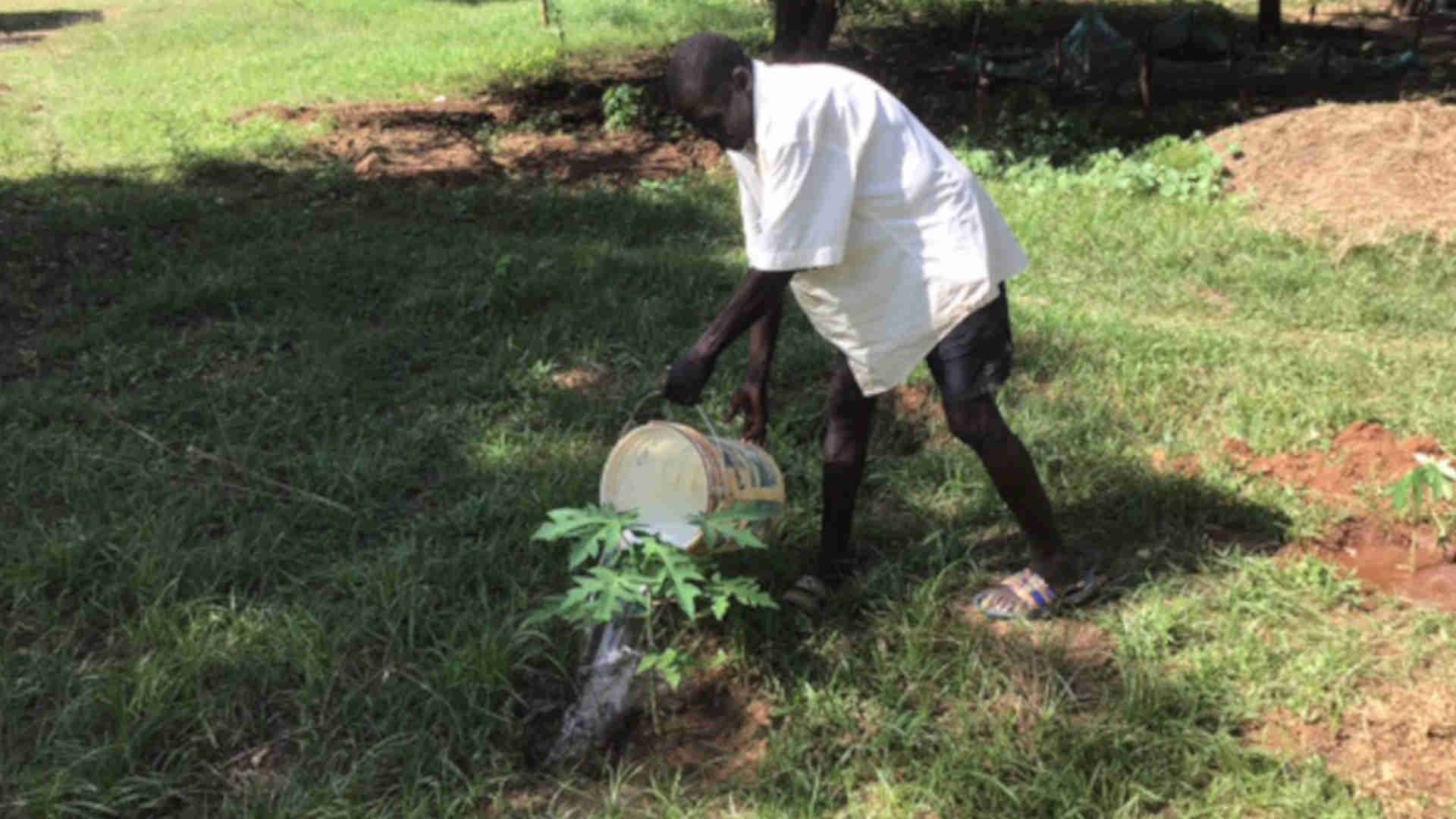 Joseph Loyda cares for trees in Riwoto.
His dedication to creation has earned him a special nickname from Galvin: "St. Francis of Riwoto."
"I give credit to Joseph that we have these to eat every day," Galvin said during a recent interview, holding up the paw paw fruit.
Loyda fled fighting in his village in 1983 before arriving in Riwoto and meeting Galvin about 10 years ago.
"I am very happy doing this work because I see that the environment is changing, the trees are benefiting the environment," he said. "Trees… they attract rain, and rain for us here is a blessing."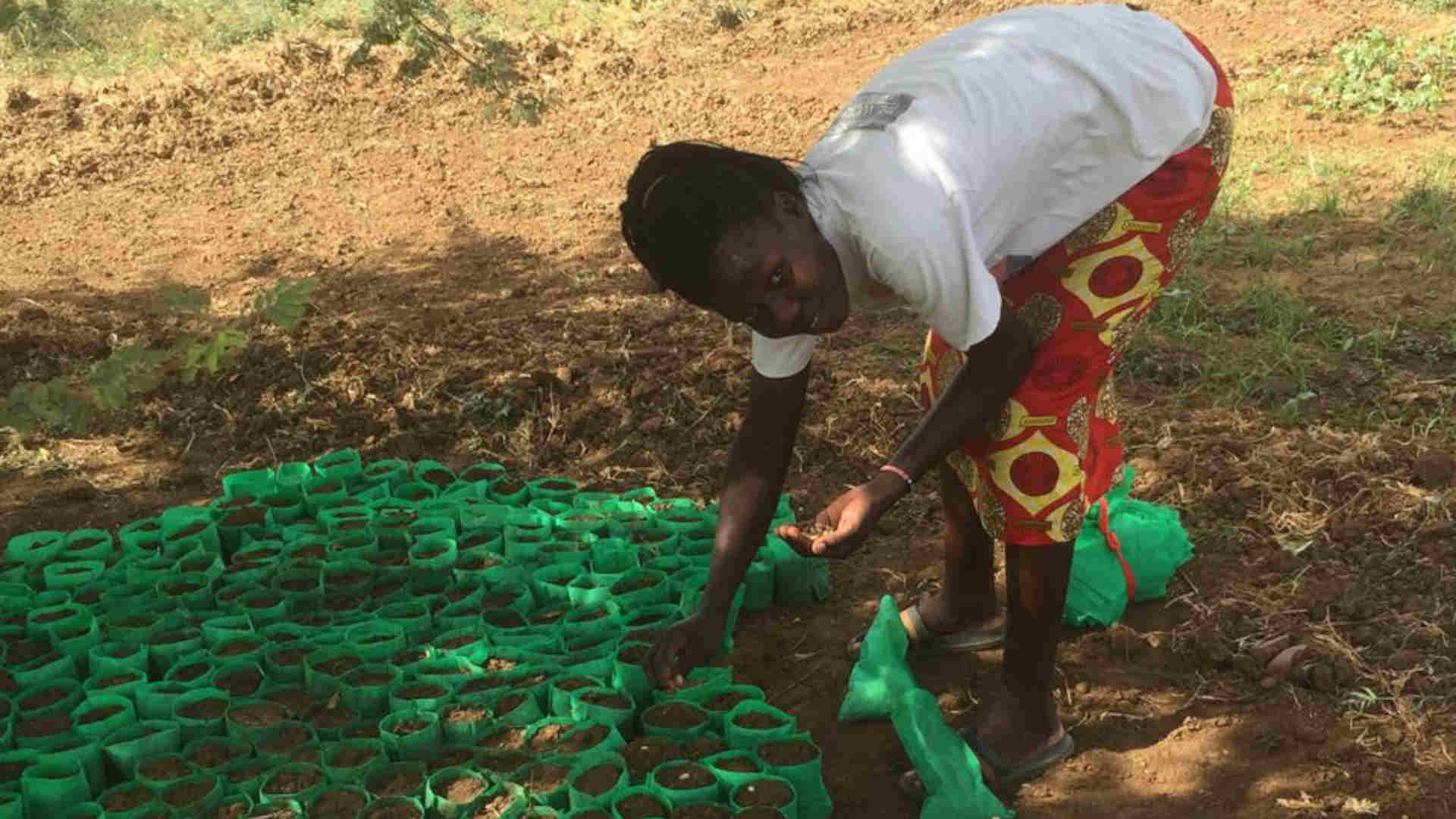 Stacy Muhuyi cares for creation by helping plant a tree nursery in Riwoto.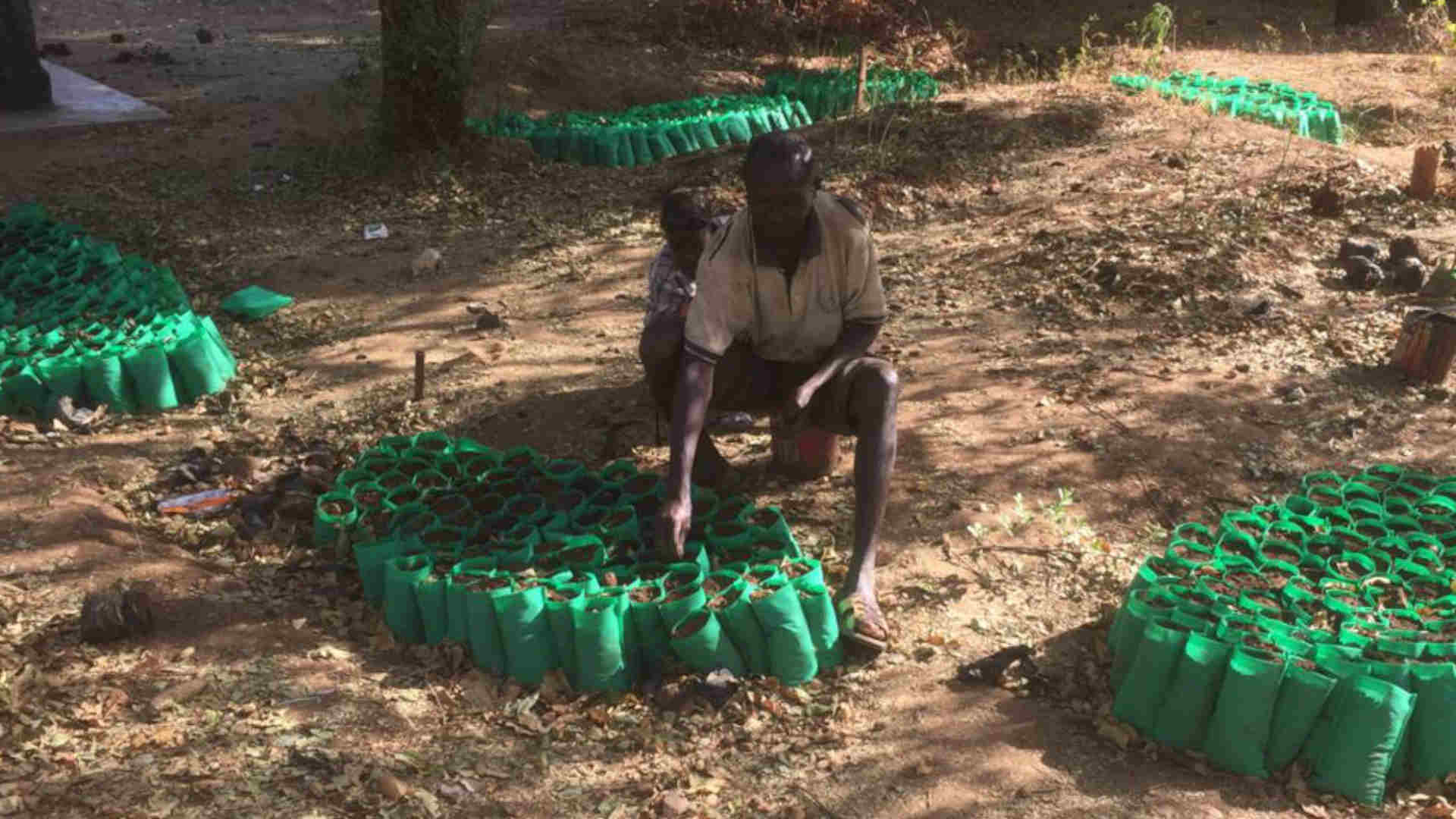 Angelo Lowii prepares a tree nursery in Riwoto.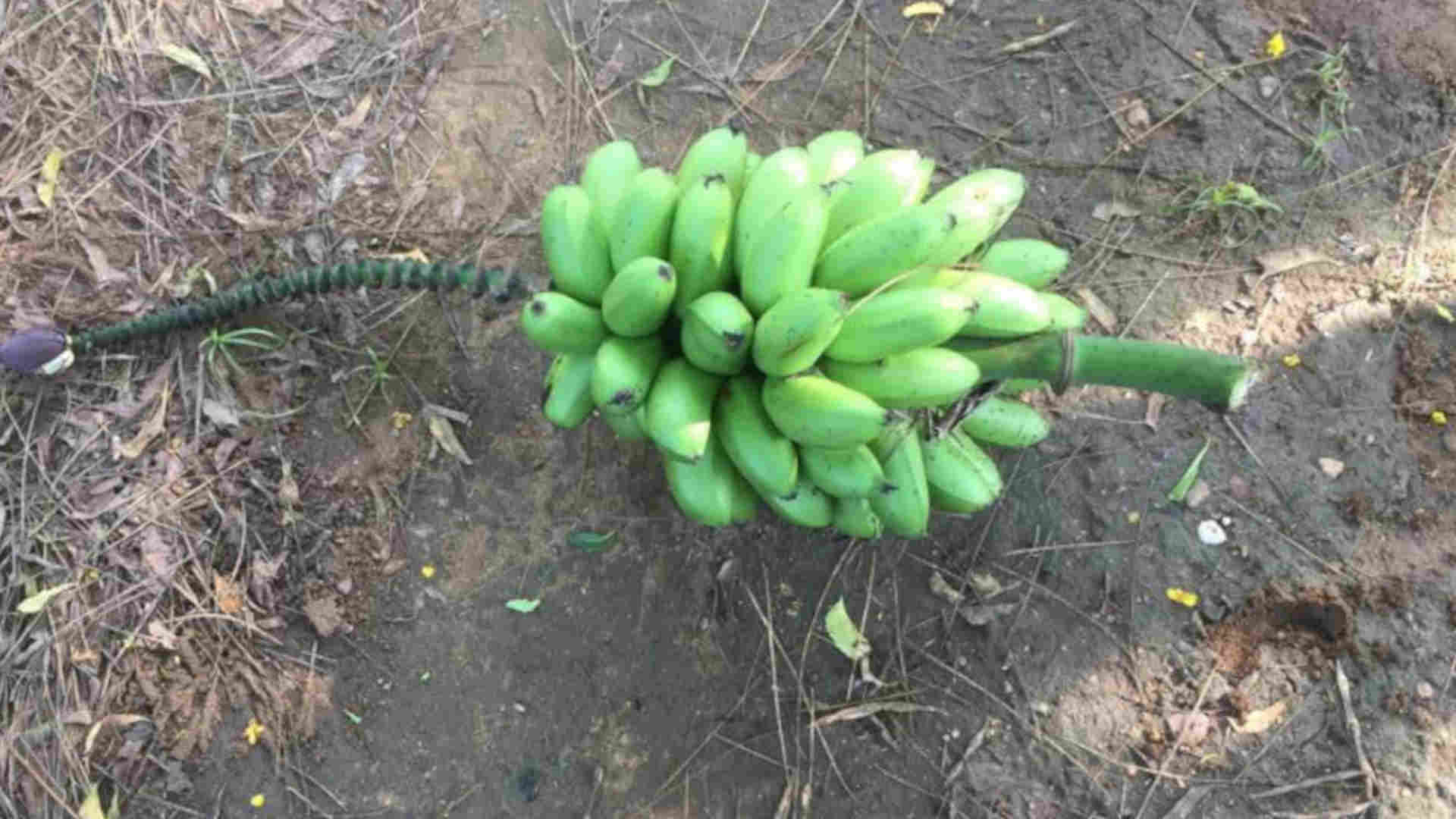 Bananas harvested in Riwoto as part of the community's efforts to improve their food security. Much of their food is imported from Kenya.
The community also cares for their growing St. Mary Magdalene garden every day.
Sister Mary Nkatha, a missionary from Mary Mother of the Church, led the planting of the 80-square-foot garden months ago in front of the primary school. The 800 children who will walk by the garden every day after the COVID-19 pandemic will have the opportunity to appreciate Mother Earth daily.
The garden also helps improve their food security, as much of South Sudan's food is imported from Kenya.
Sr. Nkatha read Laudato Si' at Galvin's urging and finished it feeling encouraged. "It has given me that seed to continue, to do more," she said.
Nkatha and all of Riwoto already have opportunities to do more.
The people have given Galvin and others seven acres to build a secondary school. More tree nurseries are in the works.
The environment and situation in Riwoto and South Sudan are far from ideal. Decades of war have devastated communities and creation.
But through Laudato Si', Pope Francis has shown them the way forward, and Fr. Galvin and the people of Riwoto are following his plan.
"We have a problem," Galvin said, "and Laudato Si' is the blueprint."